Greetings to all my blog stalkers! Thanks for coming here and checking us out. We are hard at work processing and proofing thousands of wedding pictures. There is a small break this weekend from the Saturday wedding routine and we are taking full advantage of it. This evening we ventured out for a couple hours taking some building shots for a side project given to us by Gilmor & Doyle.  We have been commissioned to photograph a handful of buildings that they were involved with (mechanical/electrical engineering). Tonight was our first one and I have to say I am pretty happy with it. Behold – The Adel Library! This was an extremely challenging facility as it is long and narrow and is only a few footsteps away from the City Hall building. It was extremely tough to get a good angle that didn't include the many signs they had posted with regards to no smoking/no loitering/etc. We wanted to use our new 24mm 1.4L lens [shameless Canon plug] but just couldn't get enough of the building in the frame. We opted for our old and trusty 17-40 to squeeze in this shot. It can give you some crazy barrel distortion on the edges of the frame but I think we were able to get away with it in this shot.
Here is the image and angle we captured straight out of the camera (no photoshop enhancements).
To be fair, I will explain that we did underexpose this on purpose to catch the sky details. We bracketed for 3 different exposures to catch highlights, midtones and shadows to prepare for my homebrew method of high dynamic range (HDR). I don't use any plugins, actions or third party software. Strictly photoshop and all its layer goodness.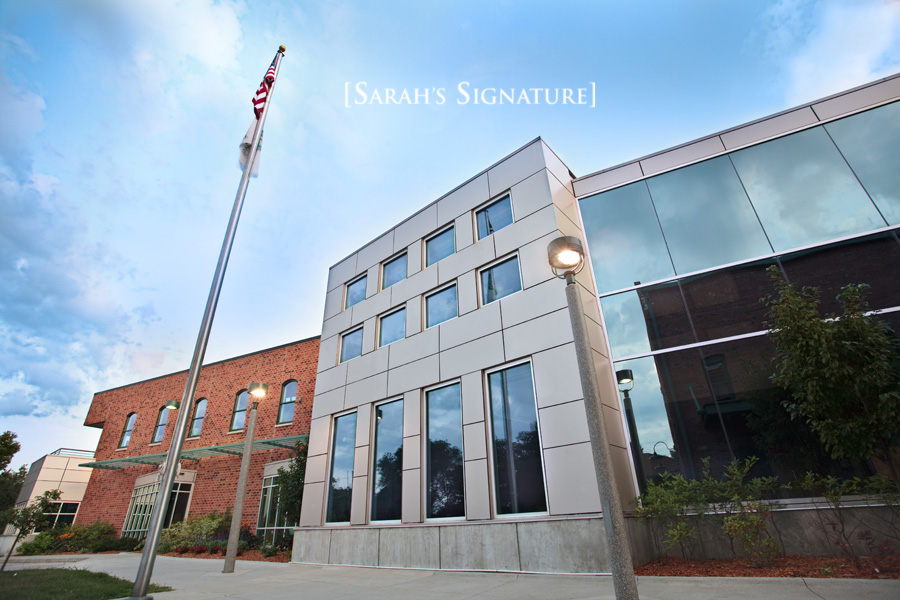 Tada! I think I might tweak the sky a little more to get a little more accurate color rendering but overall I like how it's coming.
Hope everyone is having a great start to their weekend!