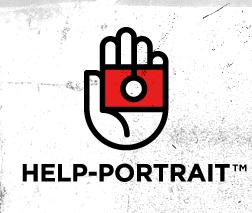 I stumbled across this project awhile ago and had spaced it off until just yesterday evening. There is an effort in the photographer community to give something special this holiday season to people in need. Just a simple portrait. They are trying to set up scheduled 'events' so that multiple photographers can join up and help with getting as many portraits as possible to those that want them. Unfortunately, as of now, nothing is set for Des Moines. There is interest in the Des Moines group on Help's website but no event has been scheduled.
Here is what I'd like to do. Even though there isn't an 'official' Help-Portrait event scheduled for our area we'd like to do our part in this wonderful project. We'll be doing some digging to see what we can come up with. But we ask that you, as a reader of this blog,  please contact us right away if you know a family that might want our services. We will come to them. This is at no cost to anyone and we will provide free prints.
Providing a free portrait to someone may seem trivial but I do believe it can make a difference. Help us out!
Contact Us Now!
sarah@lucky-soda.com