I'm breaking a few rules here to show what goes into our post production.  Recently we posted a before and after photograph of a building in Adel, IA to give readers an idea what we do to overcome certain challenges.  I will warn readers that this is NOT going to be a photoshop tutorial.  I am simply  going to show you a couple of before and after shots to explain why we do what we do and the reason wedding photographs have a little longer of a turn around time. Aside from the shear volume of photographs captured at a wedding there are so many additional variables that come into play when proofing and post processing pictures.
First example: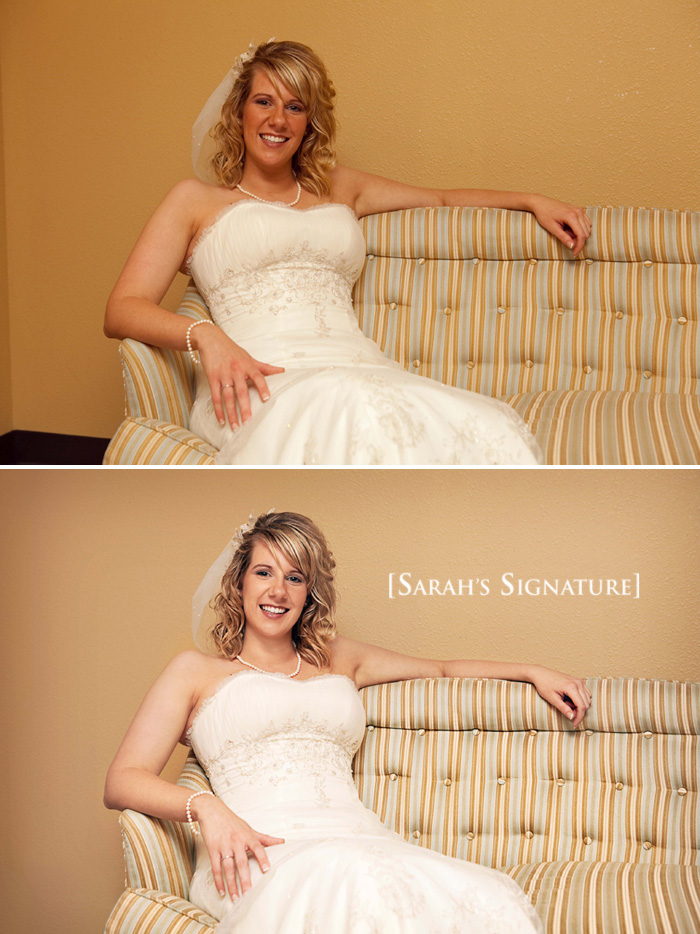 The above picture is well composed but is slightly underexposed.  In wedding photography you don't have many chances to 'get it right'. Special moments are fleeting and often times you have only one chance to get the shot. Sarah took several shots with the same composition but this particular one caught my eye. Everything about this photograph, I love. From the bride's smile to the relaxed and natural positioning of the hands. The challenge here was the environment we were shooting in. This was actually a very small room. The light was a simple on camera flash with the head tilted for bounce. This created unnatural skin tones and some heavier shadows in the face making the subject look  flushed. To correct this, I've processed the image by pushing the exposure a tad without losing any dress details. I also tried to balance out the skin tones as to give the picture a more natural look to it. In the end, photography is just like any other form of art – it's subjective.  The photo is processed until I feel it is done.
Second example: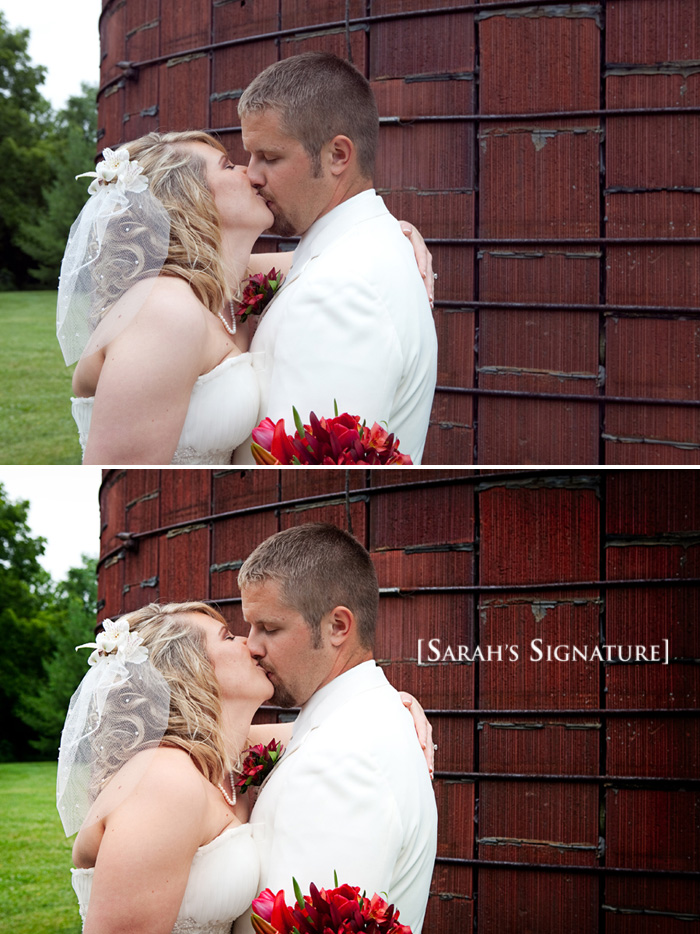 This photograph is a quick take on what I do to give something a little more 'pop' and takes only a minute to do. A bit of saturation and light midtone burning on the right side of the photograph to draw the viewers attention to the couple. And that's it! So this photograph literally took just 2 minutes to adjust and we were done with it.
So that's it for my brief run down! To those patiently waiting on wedding photographs, know we are diligently processing through them every day.  Thanks for giving us the privilege to photograph your day together!
God Bless!